by Digital Watchdog
Standalone Contactless Skin Temperature Screening.The DW E.S.T.™ System is an accurate solution that enables high-throughput prescreening of people to detect indications of elevated skin temperature, making it easy for users to quickly detect and identify any person that may require additional screening.View All E.S.T ModelsSkin temperature screening solution for every application.At an effective distance of 10 ~16.4ft, DW's elevated skin temperature scanning solution provides a high degree of flexibility to meet the individual situational awareness requirements of a wide variety of applications and markets.K-12 and higher education campusesManufacturing, industrial and infrastructureRetail and SMBElevated skin temperature screening done right.DW's E.S.T system is a security-grade thermal camera that provides a low friction, contactless alternative to traditional screening methods. Paired with the proper medical device such as a thermometer and a medical questionnaire, the E.S.T system is your first line of defence in keeping your employees, students and customers safe.

Install
With a ±0.36°F/0.2°C accuracy variance, set the camera to single person reading mode at 6.5~16.4 feet from people (10ft is recommended) and 9.8~14.7 feet from the Blackbody (10ft is recommended).



Screen
DW E.S.T. scan the skin temperature arount the person's face. An LED strobe is activated when temperature is detected above the set threshold.



Verify
Confirm results with a secondary screening medical tool, such as a thermometer, and medical questionnaire.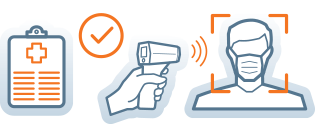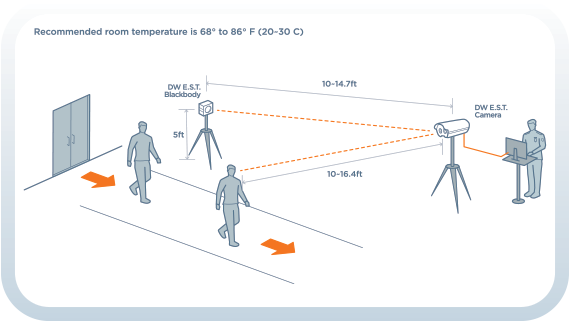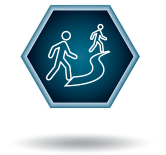 Various distances, same quality readingsWith a ±0.36°F/±0.2°C accuracy variance, set to a single person reading mode at an effective distance of 6.5 to 16.4 feet from people (10ft is recommended) and 9.8 to 14.7 feet from the Blackbody(10ft is recommended), the DW E.S.T. system provides an ideal standalone solution to meet the requirements of any application.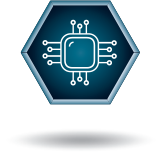 Larger sensor, 4x more data delivers greater accuracyDW's E.S.T system uses a 384×288 sensor, providing 4x more data processing power and higher accuracy than conventional IP thermal cameras.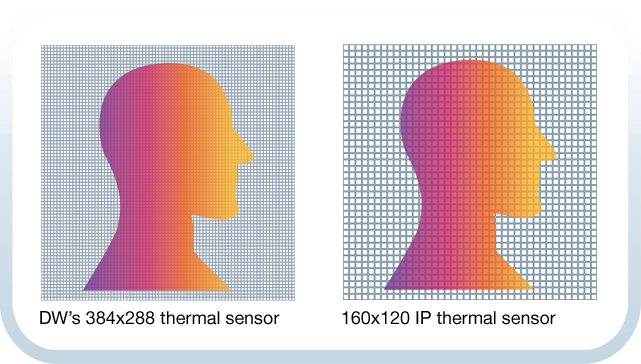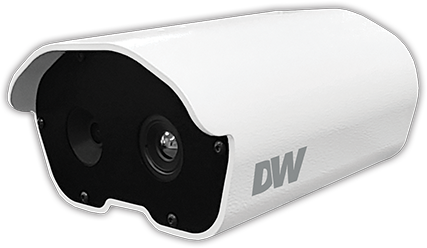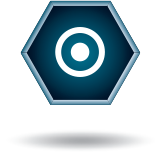 High accuracyThe system provides a high accuracy thermal reading (±0.4°F, ±0.2°C) thanks to its auto-detect Blackbody technology.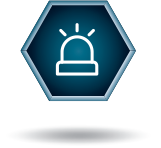 InteractiveAutomatically trigger visual and audible alarms when a person's temperature registers beyond a set threshold. These alarms can be quick alerts to let operators know additional screening is required.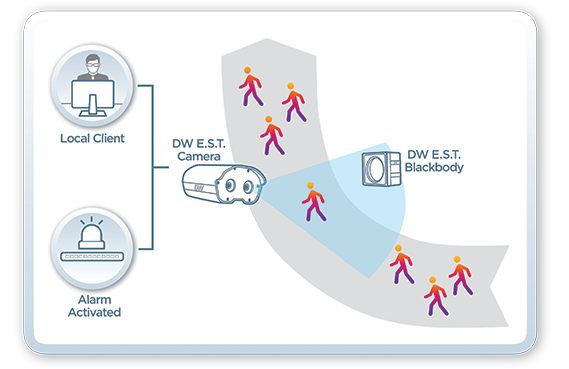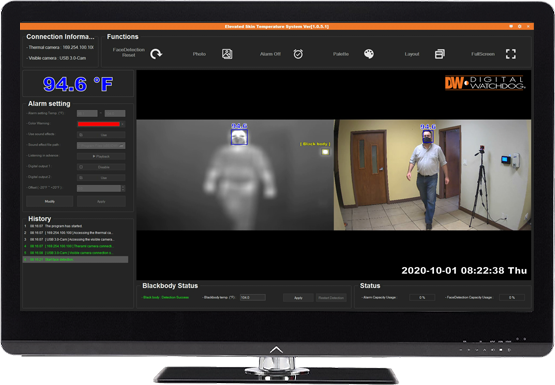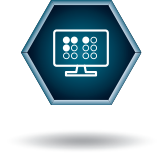 Software side data processingThe DW E.S.T. System transmits the original raw thermal data from 110,592 pixels to the dedicated E.S.T monitoring software. There, the PC performs the calculations on the data separately, delivering higher accuracy and quicker results.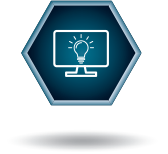 Smart auto-calibration with Blackbody sensorThe DW E.S.T. software automatically finds where the Blackbody is in the camera's Field of View (FoV), self-calibrating in real-time based on the Blackbody's set temperature. If the Blackbody moves, the software finds it automatically in the camera's FoV.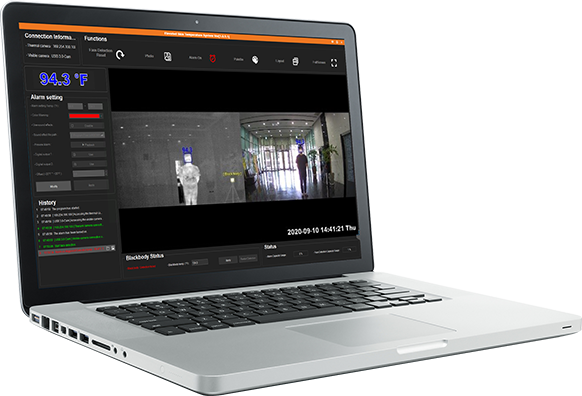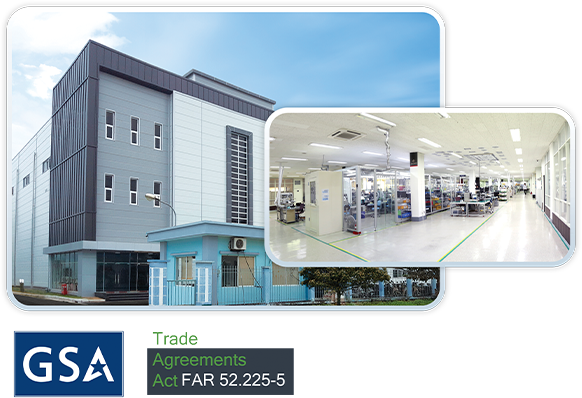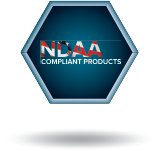 NDAA ComplianceAll DW® IP cameras, analog cameras, NVRs, DVRs, network devices and management software sold and distributed worldwide are designed and developed in U.S.A. and Korea. Manufacturing is done in Korea and Vietnam. Most DW products qualify for GSA Schedule Contracts and other government opportunities because they are TAA / NDAA compliant.
We'd Love to Hear from You